For nogle år siden fik jeg et strikket pandebånd. Det var pænt og nydeligt. Jeg brugte det bare ikke.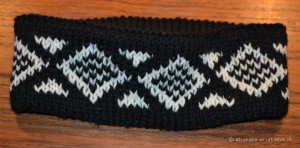 Så i stedet for det skulle ligge ubrugt, har jeg strikket det om til en hue. Forsøgte at finde et sort uldgarn som lignede farven bedst muligt. Samlede masker op langs pandebåndets kant og strikkede glat på fire pinde til det hele målte ca. 18 cm. Derefter en aflukning, hvor der strikket to sammen i starten og slutningen af hver pind på hver anden omgang.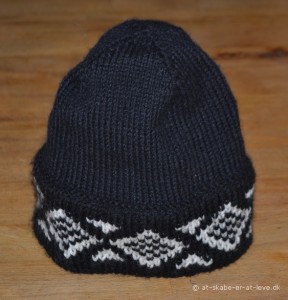 Her på billedet er der større forskel på de to farver sort end der er i virkeligheden.
Den er allerede brugt flere gange som hue end den nåede at blive som pandebånd.