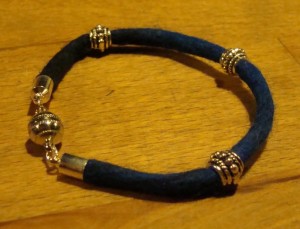 Armbåndet er filtet over en piberenser.
Derpå er sat metalperler og det hele er monteret med endedupper og en magnetlås. Endedupperne er limet på med sekundlim, som ikke må anvendes i skolesammenhænge. Men nu lavede jeg den også herhjemme.
Ideen til filtningen opstod, da en elev skulle have filtet en stilk til et lille blomsterhoved. Vi snakkede om forskellige løsninger og hun valgte at prøve at filte over en piberenser. Jeg have ikke prøvet det før, men engang skulle være den første. Kartefloren blev lagt løst ud og så rullet diagonalt på piberenseren. Derefter vådfiltet og rullet på bobleplast.
Det filtede udmærket. Dog "vandrede" filten, så den ene ende af piberenseren blev synlig mens filten i den anden ende "kravlede" ud over piberenseren. Til armbåndet skal der ikke bruges så meget, så det bedste stykke, 15 – 16 cm., blev valgt ud.