Først et pandebånd og dernæst en hue.
Jeg havde noget ret tykt garn. Blanding mellem uld og akryl. Løbelængden var 144 g, som svarede til102 m. Dertil en hæklenål nr 10.
Først pandebåndet: 10 luftmasker og en ekstra til at vende med. Dernæst fastmasker hele vejen tilbage.
Sådan fortsatte jeg indtil pandebåndet, let strakt, nåede rundt om hovedet. Så hæklede jeg start og slut sammen. Sammenhæklingen ses på det næste billede. Det var det.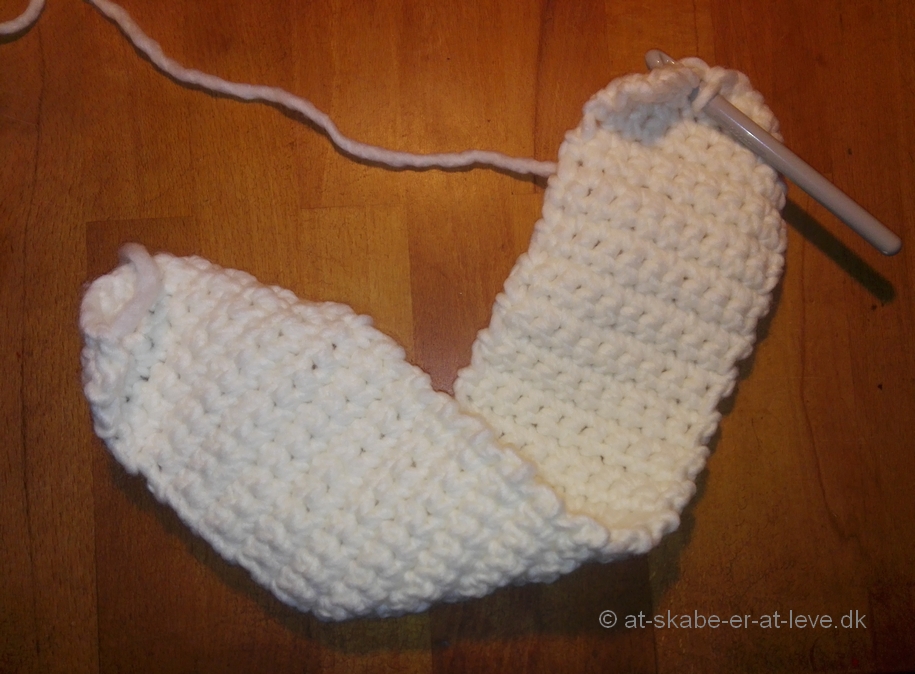 Dernæst endnu et pandebånd. Denne gang kun med 8 luftmasker slået op. Da pandebåndet var hæklet som beskrevet ovenfor, hæklede jeg en puld på:
omg: en fastmaske i kanten af pandebåndet hele vejen rundt. Sørg for det ikke flaner.
omg: en luftmaske for at komme til næste omgang. Hækl 4 fastmasker. Hækl de to næste fastmasker sammen.
Fortsæt med disse to omgange, dog således at for hver omgang, hvor der tages ind, bliver der en maske mindre mellem indtagningerne.  Til sidst består omgangen af 1. og 2. maske, der hækles sammen. Denne omgang gentages. Garnet brydes og ender hæftes.