Ville afprøve en nylonsnor til en kumihimo. Jeg begyndte på en papskive, men da snorens var løst spundet, så hang fibrene i pappet. Derfor flyttede jeg det over på et flettehjul klippet ud af mosgummi. Det fungerede sådan set også ganske udmærket. Da flette var førdigt, opdagede jeg, at der var forskel på tætheden af de to flet. Det første, på pap, var det tætteste selvom jeg synes jeg har gjort det samme hele tiden. Hvis der klikkes på billedet, ses tydeligt, at flettet, der ligger nærmest cirklen til højre, flettehjulet af pap, er tættest.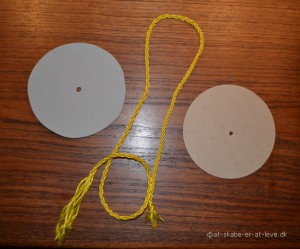 Det færdige flet blev delt i to efter tæthed. Det ene stykke blev til dette armbånd med en stjerneperle på.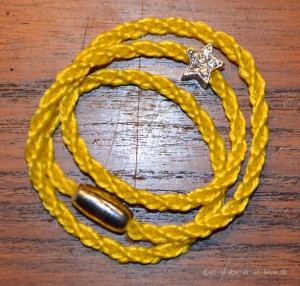 Fletteteknikken er forklaret nærmere her.