Sønnen bestilte en "halsvarmertingest", som kunne holde halsen varm, når han var på havet.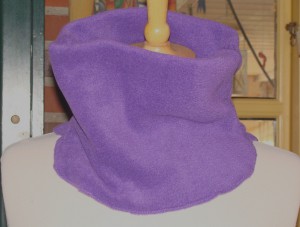 Den er syet i fleece.
Jeg har lavet et mønster, som kan udskrives her: Halsedisse i fleece.
Fremgangsmåde:
Læg fleece dobbelt. Bemærk strækretningen.
Klip to stk. med 1 cm. sømmerum.
Læg ret mod ret og sy de to sidesømme sammen.
Fold dobbelt med vrang mod vrang.
Zig-zag underkanten sammen hele vejen rundt.